Every spring since 1985 the Tenafly Class has sponsored the Rerr Terr, an evening dance with live music preceded by a fish and chips dinner. Click on a date to to see the dance program for that year.
Dance information is from the Strathspey Server Database. The description format is dance type; musical bars in each repeat; number of active couples / number of couples per set; shape of set. This is followed by the name of the devisor and publication, if any.

Dance type abbreviations are J Jig; R Reel; S Strathspey; M Medley; X March, W Waltz.
Dance shapes are L Longwise set; S Square Set; T Triangular set; RR Round the Room.

So, for example, 'Pelorus Jack J32 3/4L' is a 32 bar jig for 3 couples in a 4 couple longwise set.

Other abbreviations: RSCDS - Royal Scottish Country Dance Society; SD - 'Scottish Dance(s)'; SCD - 'Scottish Country Dance(s)'.

For teachers and others who may want to work with this list, you may download a pdf file of the dances listed alphabetically with year and program order; or the same information in an Excel spreadsheet.

Many thanks to Bob Houghton and Naomi Lasher for access to their collections of dance programs. This page was compiled by Ann Cavanaugh.
&nbsp &nbsp
The 34rd Annual Rerr Terr, Saturday, April 14, 2018
The Community Church of Ho-Ho-Kus, Ho-Ho-Kus, NJ
Music by THISTLE HOUSE
featuring Dave Wiesler, piano; Dan Emery, pipes and flute; and David Knight, fiddle
Dance program by Chris and Sue Ronald
&nbsp 1.
Joie de Vivre
J32, 3/4L
Irene van Maarseveen, RSCDS Book 39
&nbsp 2.
The Sailor
R32, 3/4L
Unknown, RSCDS Book 24
&nbsp 3.
The Lammermuir Hills
S32, 2/4L
Roy Goldring, Wells House and Other Strathspeys
&nbsp 4.
Jennifer's Jig
J32, 3/4L
John Drewry, Bon Accord Book of Scottish Country Dances
&nbsp 5.
A Trip to Bavaria
R32, 4/4L
James MacGregor-Brown, A Guide to Scottish Country Dancing
&nbsp 6.
Delvine Side
S32, 3/4L
William Campbell, RSCDS Book 2
&nbsp 7.
Neil M Grant
J32, 3/4L
Christine Grant, RSCDS Book 49
&nbsp 8.
Mrs. MacLeod of Raasay
R32, 3/4L
Unknown, RSCDS Book 6
&nbsp
INTERMISSION
&nbsp 9.
Hooper's Jig
J32, 3/4L
Unknown, Miss Milligan's Miscellany of SCD
10.
Fair Donald
S32, 3/4L
Unknown, RSCDS Book 29
11.
J. B. Milne
R32, 3/4L
Hugh Foss, Angus Fitchet Scottish Dance Album
12.
Pelorus Jack
J32, 3/4L
Barry Skelton, RSCDS Book 41, The Millennium Dances
13.
Hello-Goodbye
S32, 3/4L
Chris Ronald, RSCDS Book 51, Scottish Country Dances for Young and Less Experienced Dancers
14.
Flowers of Edinburgh
R32 3/4L
Unknown, RSCDS Book 1
15.
The Rose of the North
S32, 3/4L
Roy Goldring, Silver Jubilee 25 - Leeds Branch
16.
The Montgomeries' Rant
R32, 3/4L
Castle Menzies Register, RSCDS Book 10
The 33rd Annual Rerr Terr, Saturday, March 25, 2017
The Community Church of Ho-Ho-Kus, Ho-Ho-Kus, NJ
Music by THISTLE HOUSE
Dance program by Marc and Keira Hartstein
&nbsp 1.
Machine Without Horses
J32, 3/4L
Rutherford, RSCDS Book 12
&nbsp 2.
Catch the Wind
R32, 3/4L
Romaine Butterfield, Island Bay Collection
&nbsp 3.
Bridge of Nairn
S32, 3/4L
Robert Bremner, RSCDS Book 13 (The Victory Book)
&nbsp 4.
A Trip to Bavaria
R32, 4/4L
James MacGregor-Brown, A Guide to Scottish Country Dancing
&nbsp 5.
Chased Lovers
S32, 3/4L
Tim Wilson, World Wide Weavings
&nbsp 6.
Wisp of Thistle
S32, 3/4L
Pat Kent, RSCDS Book 37 (Frae A' The Airts, Vol 2)
&nbsp 7.
The Laird of Milton's Daughter
J32, 3/4L
Craigmyle, RSCDS Book 22
&nbsp 8.
Mason's Apron
R32, 3/4L
Unknown, Border Dance Book
&nbsp
INTERMISSION
&nbsp 9.
The Jubilee Jig
J32, 3/4L
RSCDS, The Leaflet Dances with Music
10.
Asilomar Romantic
S32, 3/4L
Tom Cuthbertson, San Francisco Branch RSCDS
11.
Blue Bonnets
J32, 2/4L
Unknown, RSCDS Book 5
12.
The Music Makars
R32, 3/4L
Roy Goldring, RSCDS Book 33 Eight Modern SCD
13.
The Border Weavers
S32, 3/3L
Alex Gray, Tweedale Collection, Volume 2
14.
Mrs. Stewart's Jig
J32, 3/4L
Frans Ligtmans, Book 35 Scottish Country Dances
15.
The Braes of Breadalbane
S32, 3/4L
Skillern, RSCDS Book 21
16.
The De'il Amang the Tailors
R32, 3/4L
Unknown, RSCDS Book 14
The 32nd Annual Rerr Terr, Saturday, April 2, 2016
The Community Church of Ho-Ho-Kus, Ho-Ho-Kus, NJ
Music by HIGHLAND WHISKY with special guest TERRY TRAUB and Piper CAMPBELL WEBSTER
Dance program by Deborah Leary
1.
Autumn Leaves
J32, 3/4L
Jane Lataille, Fun For All Seasons
2.
Davy Nick Nack
R32, 3/4L
Robert M. Campbell, Glasgow Assembly and Other SD
3.
Macdonald of the Isles
S32, 3/3L
Derek Haynes, Glendarroch Scottish Dance Sheets
4.
The Australian Ladies
R32, 3/4L
Robert M. Campbell, Glasgow Assembly and Other SD
5.
Grandma's Mandolin
S32, 3/4L
Ellen Ternes, StrathsBabes
6.
Rerr Terr Jig
J40, 3/4L
Gregor Trinkaus-Randall, Unpublished
7.
Drumelzier
S32, 4/4L
Christopher Blair, Two Scottish Country Dances
8.
General Stuart's Reel
R32, 3/4L
Castle Menzies Register, RSCDS Book 10
&nbsp
INTERMISSION
9.
The Jubilee Jig
J32, 3/4L
RSCDS, The Leaflet Dances with Music
10.
Sugar Candie
S32, 3/4L
Unknown, RSCDS Book 26
11.
Orpington Caledonians
R32, 3/4L
John Brenchley, RSCDS Book 49,
12.
Driving Through Eutaw
J32, 3/4L
Deborah Leary, Unpublished
13.
The Silver Tassie
S32, 3/4L
John Drewry, Bon Accord Book of Scottish Country Dances
14.
Flowers of Edinburgh
R32, 3/4L
Unknown, RSCDS Book 1
15.
Miss Milligan's Strathspey
S32, 3/4L
RSCDS, Leaflet Dances 1964-1998 and Other Dances
16.
The Reel of the 51st Division
R32, 3/4L
James Atkinson, RSCDS Book 13 (The Victory Book)
The 31st Annual Rerr Terr, Saturday, March 21, 2015
The Community Church of Ho-Ho-Kus, Ho-Ho-Kus, NJ
Music by HIGHLAND WHISKY with special guest TERRY TRAUB
Dance program by Fergie Ferguson
1.
The Brudenell Jig
J32 2/4L
Brenda Burnell, A Second Book of Graded SCD
2.
The Highland Rambler
R40, 3/4L
Roy Goldring, Silver Jubilee 25
3.
The Sauchie Haugh
S32, 2/4L
George S Emmerson, Leaflet #12
4.
Round Reel of Eight
R88, 4/4S
Unknown, RSCDS Book 27
5.
Haste to the Wedding
J32, 2/4L
Unknown, RSCDS Book 25
6.
From the Broomielaw
S32, 4/4L
Anna Campbell Holden, TAC Silver Anniversary Dances
7.
The White Heather Jig
J40, 4/4L
James B. Cosh, Twenty-two SCD and Two Others
8.
A Touch of Tartan
R32, 3/4L
Irene van Maarseveen, The Dancing Thistles
&nbsp
INTERMISSION
9.
The Hunting Horn
J32, 3/4L
Peter McBryde, Scottish Dance Archives
10.
Bratach Bana
R32, 3/4L
John Drewry, Bon Accord Book of SCD
11.
Bonnie Stronshiray
S32, 3/4L
Robert M. Campbell, Glasgow Assembly & Other SD
12.
Miss Johnstone of Ardrossan
R32, 5/5L
Roy Goldring, 14 Social Dances for 2000
13.
The Nurseryman
J32, 3/4L
Steve Brown, RSCDS Book 37 (Frae A' The Airts, Vol 2), 1992
14.
Miss Gibson's Strathspey
S32, 3/4L
Derek Haynes, Scottish Country Dance Leaflets
15.
Tribute to the Borders
J32, 3/4L
Roy Goldring, Scottish Country Dance Leaflets
16.
Da Rain Dancin'
R32, 3/4L
Ron Wallace, Whiteadder Collection
The 30th Annual Rerr Terr, Saturday, April 5, 2014
The Church of the Atonement, Tenafly, NJ
Music by GLENFIDDLE
featuring Jane Roberts, cello; Josh Burdick, piano; Nora Smith, fiddle; and Adam Oleska, fiddle
Dance program by Peter Price
1.
Cabbages and Kings
J32, 3/4L
Romaine Butterfield, The Harbour City
2.
Braes of Tulliemet
S32, 3/4L
Castle Menzies, RSCDS Book 7
3.
The White Cockade
R32, 3/4L
Preston, RSCDS Book 5
4.
Mrs. Stewart's Jig
J32, 3/4L
Frans Ligtmans, RSCDS Book 35
5.
The Fountain Strathspey
S32, 3/3L
Robert Gregg, The Real MacGregor
6.
Jessie's Hornpipe
R32, 3/4L
Unknown, RSCDS Book 8
7.
C'est L'Amour
J32, 3/4L
Unknown, RSCDS Book 34
8.
Miss Jane Muirhead of Dunsmuir
S32, 3/4L
Tom Winter, Dunsmuir Dances
9.
Arthur's Seat
R32, 3/4L
Jack McConachie, SCD of the 18th Century
INTERMISSION
10.
Argyll's Fancy
J48, 4/4L
Unknown, Book of Graded Dances
11.
Clydebank Strathspey
S32, 2/3L
Roy Goldring, Graded and Social Dances, V. 2
12.
The Piper and the Penguin
R88, 4/4S
Roy Goldring, Scotia Suite
13.
Fair Donald
S32, 3/4L
Unknown, RSCDS Book 29
14.
Blue Bonnets
J32, 2/3L
Unknown, RSCDS Book 3
15.
Minister on the Loch
S32, 3/3L
Roy Goldring, Four Dances 2008
16.
Reel of the 51st Division
R32, 3/4L
James Atkinson, RSCDS Book 13 (The Victory Book)
Rerr Terr 2013, Saturday, April 6, 2013
Church of the Atonement, Tenafly, NJ
Music by HIGHLAND WHISKY with special guest TERRY TRAUB
Dance program by Bob Houghton
1.
St. Andrew's Fair
J32, 3/4L
Roy Goldring, 5 Scottish Country Dances
2.
On the Quarter-Deck
R32, 2/4L
Iain Boyd, The Harbour City
3.
The Silver City
S32, 3/4L
John Drewry, The Silver City Book of SCD
4.
Haste to the Wedding
J32, 2/4L
Unknown, RSCDS Book 25
5.
The Duchess Tree
S32, 3/4L
John Drewry, The Brodie Book
6.
The Dancing Man
R32, 3/4L
Roy Goldring, 10 Social Dances
7.
Bonnie Stronshiray
S32, 3/4L
Robert M. Campbell, Glasgow Assembly & Other SD
8.
Rest and Be Thankful
R32, 3/4L
Unknown, Grampian Collection of Scottish Country Dances
INTERMISSION
9.
Wild Geese
J32, 3/4L
Unknown, RSCDS Book 24
10.
Maxwell's Rant
R32, 3/4L
Rutherford, RSCDS Book 18
11.
Sauchie Haugh
S32, 2/3L
George S. Emmerson, Leaflet #12
12.
Pelorus Jack
J32, 3/4L
Barry Skelton, RSCDS Book 41, The Millennium Dances
13.
Mrs. MacLeod of Raasay
R32, 3/4L
Unknown, RSCDS Book 6
14.
Miss Gibson's Strathspey
S32, 3/4L
Derek Haynes, Scottish Country Dance Leaflets
15.
Old Nicks Lumber Room
J32, 3/4L
Unknown, RSCDS Book 26
16.
The Wind that Shakes the Barley
R32, 3/4L
John M. Duthie, Eight Scottish Country Dances
2012 Rerr Terr, Saturday, March 24, 2012
Church of the Atonement, Tenafly, NJ
Music by HIGHLAND WHISKY with special guest CALUM PASQUA
Dance program by Fergie Ferguson
1.
Well Done Jack
J32, 3/4L
Unknown, RSCDS Book 29
2.
General Stuart's Reel
R32, 3/4L
Castle Menzies Register, RSCDS Book 10
3.
Barbara's Strathspey
S32, 3/4L
Sue McKinnell, RSCDS Book 46
4.
Spiffin'
J32, 5/5S
Quarries and Friends, Chicago 25th Anniversary Collection
5.
Tribute to the Borders
J32, 3/4L
Roy Goldring, Scottish Country Dance Leaflets
6.
The Dundee Whaler
S32 4/4L
Roy Clowes, Ormskirk Scottish Dances Book 1
7.
The Nurseryman
J32, 3/4L
Steve Brown, RSCDS Book 37 (Frae A' The Airts, Vol 2)
8.
Australian Ladies
R32, 3/4L
Robert M. Campbell, Glasgow Assembly and Other SD
INTERMISSION
9.
Good Hearted Glasgow
J32, 3/4L
Peter Knapman, A Guide to Scottish Country Dancing
10.
White Cockade
R32, 3/4L
Preston, RSCDS Book 5
11.
Gang the Same Gate
S32, 3/4L
Milton Levy, RSCDS Book 36
12.
Shiftin' Bobbins
R32, 3/4L
Roy Clowes, Ormskirk Scottish Dances Book 6
13.
Mrs. Stewart's Jig
J32, 3/4L
Frans Ligtmans, Book 35 Scottish Country Dances
14.
Sauchie Haugh
S32, 2/4L
George S. Emmerson, Scottish Country Dance Leaflets
15.
White Heather Jig
J40, 4/4L
James B. Cosh, Twenty-two SCD and Two Others
16.
It's A Dawdle
R32, 3/4L
James (Fergie) Ferguson, Leaflet
2011 Rerr Terr, Saturday, April 2, 2011
The Church of the Atonement, Tenafly, NJ
Music by HIGHLAND WHISKY
Dance program by Liz Burns
1.
EH3 7AF
J32, 3/4L
Roy Goldring, RSCDS Book 40
2.
Corn Rigs
R32, 2/4L
Unknown, RSCDS Book 4
3.
Fair Donald
S32, 3/4L
Unknown, RSCDS Book 29
4.
The New Rigged Ship
J48, 3/4L
Unknown, RSCDS Book 9
5.
Netherby Hall
R32, 2/4L
John Drewry, Bon Accord Book of Scottish Country Dances
6.
From the Broomielaw
S32, 4/4L
Anna Campbell Holden, TAC Silver Anniversary Dances
7.
Kendall's Hornpipe
J32, 2/4L
Unknown, Book of Graded Scottish Country Dances
8.
Ye're Welcome Charly Stuart
R32, 3/4L
Castle Menzies Register, RSCDS Book 7
INTERMISSION
9.
Clydeside Lassies
R32, 2/4L
Unknown, Miss Milligan's Miscellany Volume 1
10.
It's Just for Fun
R32, 3/4L
Roy Fidler, RSCDS Book 33 Eight Modern Country Dances
11.
The Moment of Truth
S32, 3/4L
Claudette Sigg, RSCDS Book 37 (Frae A' The Airts, Vol 2)
12.
The Saltire Society Reel
R32, 3/4L
Roy Goldring, Scottish Country Dance Leaflets
13.
Angus of Fife
J32, 3/4L
Mary Pasqua, Millennium Dances
14.
12 Coates Crescent
S32, 4/4L
RSCDS, RSCDS Book 40, Dances for Young People and New Dancers
15.
Light and Airy
J32, 3/4L
William Campbell, RSCDS Book 4
16.
The Highland Rambler
R40, 3/4L
Roy Goldring, Silver Jubilee 25
2010 Rerr Terr, Saturday, April 10, 2010
The Church of the Atonement, Tenafly, NJ
Music by HIGHLAND WHISKY
Dance program by Bob Houghton
1.
Machine without Horses
J32, 3/4L
Rutherford, RSCDS Book 12
2.
De'il Amang the Tailors
R32, 3/4L
Unknown, RSCDS Book 14
3.
Bedrule
S32, 3/4L
Betty Grant, RSCDS Book 33, Eight Modern SCD
4.
Duke of Atholl's Reel
J32, 2/4L
Skillern, RSCDS Book 16
5.
Neidpath Castle
S32, 3/3L
Derek Haynes, RSCDS Book 22
6.
Maxwell's Rant
R32, 3/4L
Rutherford, RSCDS Book 18
7.
Silver Tassie
S32, 3/4L
John Drewry, Bon Accord Book of Scottish Country Dances
8.
Wind that Shakes the Barley
R32, 3/4L
John M. Duthie, 8 Scottish Country Dances
INTERMISSION
9.
Roaring Jelly
J32, 3/4L
Hugh Foss, Glendarroch Scottish Dance Sheets
10.
The Dancing Man
R32, 3/4L
Roy Goldring, 10 Social Dances
11.
The Gentleman
S32, 3/4L
Roz Scott Huxley, RSCDS Book 35 SCD
12.
Haste to the Wedding
J32, 2/4L
Unnown, RSCDS Book 25
13.
The Mason's Apron
R32, 3/4L
Unknown, Border Dance Book
14.
Miss Gibson's Strathspey
S32, 3/4L
Derek Haynes, Scottish Country Dance Leaflets
15.
Just as I was in the Morning
J40, 2/4L
Rutherford, RSCDS Book 19
16.
Reel of the Royal Scots
R32, 3/4L
Roy Goldring, Scottish Country Dance Leaflets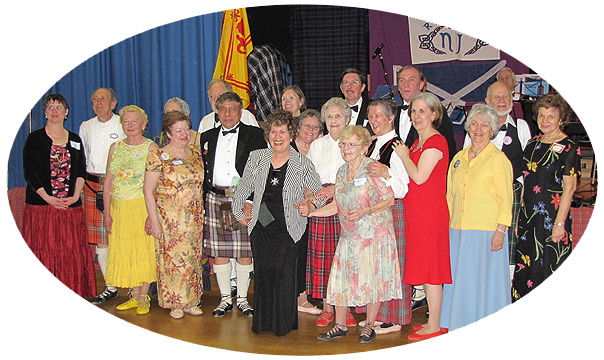 25th Annual Rerr Terr, Saturday, April 18, 2009
The Church of the Atonement, Tenafly, NJ
Music by HIGHLAND WHISKY
Dance program by Liz Burns
1.
Well Done Jack
J32, 3/4L
Unknown, RSCDS Book 29
2.
Flowers of Edinburgh
R32 3/4L
Unknown, RSCDS Book 1
3.
Lady McGowan's Dream
S32, 2/4L
Harry C. Ways, Bicentennial Book plus Seven SCD
4.
The Peat Fire Flame
R40, 3/4L
John Drewry, Bon Accord Book of Scottish Country Dances
5.
Postie's Jig
J32, 4/4L
Roy Clowes, Ormskirk Scottish Dances Book 5
6.
Fair Donald
S32, 3/4L
Unknown, RSCDS Book 29
7.
The Music Will Tell You
R32, 4/4L
Peter Avery, RSCDS Book 41, The Millennium Dances
8.
The Laird of Milton's Daughter
J32, 3/4L
Craigmyle, RSCDS Book 22
INTERMISSION
9.
Davy Nick Nack
R32 3/4L
Robert M. Campbell, Glasgow Assembly and Other SD
11.
The Dundee Whaler
S32 4/4L
Roy Clowes, Ormskirk Scottish Dances Book 1
12.
Anniversary Reel
R32, 4/4L
Sheila Muire, Book 36 (Frae A' The Airts, Vol 1)
13.
The Twinbairn's Reel
J32, 2/4L
John Drewry, Deeside Book Part 2
14.
The Land O' Cakes
S32, 3/4L
Goulding, RSCDS Book 29
15.
Bonnie Dundee
J32, 3/4L
Doris Weller, New York Branch Dances
16.
The Duran Ranger
R32, 3/4L
Unknown, RSCDS Book 13 (The Victory Book)
24th Annual Rerr Terr, Saturday, April 5, 2008
Church of the Atonement, Tenafly, NJ
Music by HIGLAND WHISKY
Dance program by Fergie Ferguson
1.
Light and Airy
J32, 3/4L
William Campbell, RSCDS Book 4
2.
Sunshine Sally
S32, 4/4L
Chris Ronald, 12 Scottish Country Dances
3.
Starlight
R32, 3/4L
Ed Abdill, RSCDS Book 44
4.
Roaring Jelly
J32, 3/4L
Hugh Foss, Glendarroch Scottish Dance Sheets
5.
Bonnie Stronshiray
S32, 3/4L
Robert M. Campbell, Glasgow Assembly & Other SD
6.
J. B. Milne
R32, 3/4L
Hugh Foss, Angus Fitchet Scottish Dance Album
7.
The Border Weavers
S32, 3/3L
Alex Gray, Tweedale Collection, Volume 2
8.
It's Not Rocket Science
J32, 3/4L
Joanna Reiner & Emily Mellott, Delaware Valley Silver
INTERMISSION
9.
Pelorus Jack
J32, 3/4L
Barry Skelton, RSCDS Book 41, The Millennium Dances
10.
The Lords of the Wind
R32, 3/4L
Iain Boyd, The Lord of the Rings Collection
11.
The Singing Sands
S32, 3/3L
Barry Priddy, The Silver Rose Book of SCD
12.
The Professor's Wife
R32, 3/4L
Nancy Scott Pryce, Millennium Dances
13.
Ellie's Jig
J32, 3/4L
Melbourne Briscoe, The Slip Knot Collection
14.
Seann Truibhas Willichan
S32, 2/4L
Thomas Wilson, RSCDS Book 27
15.
The Lassies of Dunse
J32, 3/4L
Rutherford, RSCDS Book 18
16.
The Reel of the Royal Scots
R32, 3/4L
Roy Goldring, Scottish Country Dance Leaflets
23rd Annual Rerr Terr, Saturday, April 14, 2007
Church of the Atonement, Tenafly, NJ
Music by HIGHLAND WHISKY
Dance program by Bob Houghton
1.
The White Cockade
R32, 3/4L
Preston, RSCDS Book 5
2.
The Duke of Atholl's Reel
J32, 2/4L
Skillern, RSCDS Book 16
3.
Balquidder Strathspey
S32, 3/4L
Rutherford, RSCDS Book 24
4.
Ladies' Fancy
J32, 2/4L
Unknown, RSCDS Book 13 (The Victory Book)
5.
Bedrule
S32, 3/4L
Betty Grant, RSCDS Book 33, Eight Modern SCD
6.
The Dancing Man
R32, 3/4L
Roy Goldring, 10 Social Dances
7.
The Gentleman
S32, 3/4L
Roz Scott Huxley, RSCDS Book 35 Scottish Country Dances
8.
General Stuart's Reel
R32, 3/4L
Castle Menzies Register, RSCDS Book 10
INTERMISSION
9.
Davy Nick Nack
R32, 3/4L
Robert M. Campbell, Glasgow Assembly and Other SD
10.
Just as I was in the Morning
J40, 2/4L
Rutherford, RSCDS Book 19
11.
The Silver Tassie
S32, 3/4L
John Drewry, Bon Accord Book of Scottish Country Dances
12.
The Rothesay Rant
J32, 4/4S
Anna Campbell Holden, Birmingham Book 1973-12 SCD
13.
Fight About the Fireside
R32, 3/4L
Nathaniel Gow, RSCDS Book 1
14.
Miss Gibson's Strathspey
S32, 3/4L
Derek Haynes, Scottish Country Dance Leaflets
15.
Rest and Be Thankful
R32, 3/4L
Unknown, Grampian Collection of Scottish Country Dances
16.
West's Hornpipe
R32, 4/4L
Unknown, Five Traditional SCD for 1965
22nd Annual Rerr Terr, Saturday, April 1, 2006
First Presbyterian Church, Hackensack, NJ
Music by HIGHLAND WHISKY
Dance program by Liz Burns
1.
Merry Lads of Ayr
R32, 3/4L
Unknown, RSCDS Book 1
2.
Joie de Vivre
J32, 3/4L
Irene van Maarseveen, RSCDS Book 39
3.
The Marquis of Lorne
S32, 3/4L
Unknown, Miss Milligan's Miscellany of SCD
4.
The Music Will Tell You
R32, 4/4L
Peter Avery, RSCDS Book 41, The Millennium Dances
5.
The Hunting Horn
J32, 3/4L
Peter McBryde, Scottish Dance Archives
6.
Cuillins of Skye
S32, 3/4L
Roy Goldring, Four Scottish Country Dances
7.
The Solway Reel
R48, 4/4L
Joseph Killeen, The Anniversary Book
8.
Major Ian Stewart
J32, 3/4L
John Drewry, RSCDS Book 35 SCD
INTERMISSION
9.
A Trip to Bavaria
R32, 4/4L
James MacGregor-Brown, A Guide to SCD
10.
EH3 7AF
J32, 3/4L
Roy Goldring, RSCDS Book 40
11.
Bridge of Nairn
S32, 3/4L
Robert Bremner, RSCDS Book 13 (The Victory Book)
12.
Mairi's Wedding
R40, 3/4L
James B. Cosh, Twenty Two SCD and Two Others
13.
Lamb Skinnet
J32, 3/4L
Thompson, RSCDS Book 14
14.
Dunfermline Glen
S32, 2/4L
Roy Goldring, Twelve More Social Dances
15.
Mrs. Stewart's Jig
J32, 3/4L
Frans Ligtmans, Book 35 Scottish Country Dances
16.
The De'il Amang the Tailors
R32, 3/4L
Unknown, RSCDS Book 14
21st Annual Rerr Terr, Saturday, March 12, 2005
First Presbyterian Church, Hackensack, NJ
Music by HIGHLAND WHISKY
Dance program by Fergie Ferguson
1.
The College Hornpipe
R32, 3/4L
Boag, RSCDS Book 20
2.
Haste to the Wedding
J32, 2/4L
Unknown, RSCDS Book 25
3.
The Gentleman
S32, 3/4L
Roz Scott Huxley, RSCDS Book 35 Scottish Country Dances
4.
The Music Makars
R32, 3/4L
Roy Goldring, RSCDS Book 33 Eight Modern SCD
5.
Campbell's Frolic
J32, 3/4L
Rutherford, RSCDS Book 15
6.
Bedrule
S32, 3/4L
Betty Grant, RSCDS Book 33, Eight Modern SCD
7.
The White Heather Jig
J40, 4/4L
James B. Cosh, Twenty-two SCD and Two Others
8.
Falls of Rogie
R32, 3/4L
Jean Attwood, Alexander Dances Book 1
INTERMISSION
9.
The Royal Deeside Railway
R32, 3/4L
Ron Arrowsmith, RSCDS Book 40, SCD for Young People and New Dancers
10.
Queen City Salute
M64, 4/4L
G. Dale Birdsall, Book 37 (Frae A' The Airts, Vol 2)
11.
Spiffin'
J32, 5/5S
Quarries and Friends, Chicago 25th Anniversary Collection
12.
Brochan Lom
S32, 3/4L
Iain Macfarlane, Unpublished
13.
The Hamilton Rant
R48, 3/4L
Robert M. Campbell, RSCDS Book 22
14.
Macdonald of the Isles
S32, 3/3L
Derek Haynes, Glendarroch Scottish Dance Sheets
15.
Mrs. Stewart's Jig
J32, 3/4L
Frans Ligtmans, Book 35 Scottish Country Dances
16.
The Wind that Shakes the Barley
R32, 3/4L
John M. Duthie, Eight Scottish Country Dances
20th Annual Rerr Terr, Saturday, April 24, 2004
Christ Church of Ridgewood, Ridgewood, NJ
Music by HIGHLAND WHISKY
Dance program by Bob Houghton
1.
The De'il Amang the Tailors
R32, 3/4L
Unknown, RSCDS Book 14
2.
On the Quarter-Deck
R32, 2/4L
Iain Boyd, The Harbour City
3.
Dalkeith's Strathspey
S32, 3/4L
Unknown, RSCDS Book 9
4.
Old Nick's Lumber Room
J32, 3/4L
Unknown, RSCDS Book 26
5.
The Silver Tassie
S32, 3/4L
John Drewry, Bon Accord Book of Scottish Country Dances
6.
Waverley
J48, 3/4L
Button and Whittaker, RSCDS Book 15
7.
Seann Truibhas Willichan
S32, 2/4L
Thomas Wilson, RSCDS Book 27
8.
General Stuart's Reel
R32, 3/4L
Castle Menzies Register, RSCDS Book 10
INTERMISSION
9.
The Hollin Buss
J32, 2/4L
Unknown, RSCDS Book 24
10.
Ferla Mor
R32, 3/4L
John Drewry, Deeside Book Part 1
11.
Strathglass House
S32, 3/4L
Robert Bremner, RSCDS Book 13 (The Victory Book)
12.
Hooper's Jig
J32, 3/4L
Unknown, Miss Milligan's Miscellany of SCD
13.
Mrs. MacLeod of Raasay
R32, 3/4L
Unknown, RSCDS Book 6
14.
Bonnie Stronshiray
S32, 3/4L
Robert M. Campbell, Glasgow Assembly & Other SD
15.
Miss Nancy Frowns
J32, 3/4L
Thompson, RSCDS Book 14
16.
Shiftin' Bobbins
R32, 3/4L
Roy Clowes, Ormskirk Scottish Dances Book 6
19th Annual Rerr Terr, Saturday, March 29, 2003
Christ Church of Ridgewood, Ridgewood, NJ
Music by HIGHLAND WHISKY
Dance program by Liz Burns
1.
Over the Water to Charlie
J32, 3/4L
Unknown, RSCDS Book 34
2.
The Selkirk Settlers
R40, 3/3L
Margaret Zadworny, Let's All Dance
3.
The Shores of Solway
S32, 3/4L
Roy Goldring, 10 Social Dances
4.
Capelthwaite
R32, 2/4L
Claudette Sigg, San Francisco Collection Volume 2
5.
Major Ian Stewart
J32, 3/4L
John Drewry, RSCDS Book 35 SCD
6.
Wisp of Thistle
S32, 3/4L
Pat Kent, RSCDS Book 37 (Frae A' The Airts, Vol 2)
7.
Miss Stewart's Jig
J32, 2/4L
Hugh Foss, Glendarroch Scottish Dance Sheets
8.
The Highland Rambler
R40, 3/4L
Roy Goldring, Silver Jubilee 25
INTERMISSION
9.
Black Donald
J32, 2/4L
Derek Haynes, Carnforth Collection of SCD 2
10.
The Chequered Court
J32, 3/4L
Duncan Brown, RSCDS Book 42, To Celebrate the 70th Summer School
11.
Cuillins of Skye
S32, 3/4L
Roy Goldring, Four Scottish Country Dances
12.
The Fudge Factor
R32, 3/4L
Anne Wolf, Nutmeg Collection of Scottish Country Dances
13.
Dundee Reel
J40, 3/4L
Unknown, Border Dance Book
14.
The Gentleman
S32, 3/4L
Roz Scott Huxley, RSCDS Book 35 SCD
15.
Davy Nick Nack
R32 3/4L
Robert M. Campbell, Glasgow Assembly and Other SD
16.
The Reel of the 51st Division
R32, 3/4L
James Atkinson, RSCDS Book 13 (The Victory Book)
18th Annual Rerr Terr, Saturday, April 6, 2002
The Woman's Club of Hackensack, Hackensack, NJ
Music by HIGHLAND WHISKY
Dance program by Bob Houghton
1.
Machine Without Horses
J32, 3/4L
Rutherford, RSCDS Book 12
2.
Flowers of Edinburgh
R32 3/4L
Unknown, RSCDS Book 1
3.
John McAlpin
S32, 3/4L
Hugh Foss, Galloway Album
4.
Round Reel of Eight
R88, 4/4S
Unknown, RSCDS Book 27
5.
The Sauchie Haugh
S32, 2/4L
George S Emmerson, Leaflet #12
6.
The Wild Geese
J32, 3/4L
Unknown, RSCDS Book 24
7.
Bedrule
S32, 3/4L
Betty Grant, RSCDS Book 33, Eight Modern SCD
8.
The Montgomeries' Rant
R32, 3/4L
Castle Menzies Register, RSCDS Book 10
INTERMISSION
9.
Kendall's Hornpipe
J32, 2/4L
Unknown, Book of Graded Scottish Country Dances
10.
The College Hornpipe
R32, 3/4L
Boag, RSCDS Book 20
11.
Neidpath Castle
S32, 3/3L
Derek Haynes, RSCDS Book 22
12.
The Dancing Man
R32, 3/4L
Roy Goldring, 10 Social Dances
13.
Mason's Apron
R32, 3/4L
Unknown, Border Dance Book
14.
Seann Truibhas Willichan
S32, 2/4L
Thomas Wilson, RSCDS Book 27
15.
Roaring Jelly
J32, 3/4L
Hugh Foss, Glendarroch Scottish Dance Sheets
16.
The Reel of the Royal Scots
R32, 3/4L
Roy Goldring, Scottish Country Dance Leaflets
17th Annual Rerr Terr, Saturday, April 7, 2001
The Woman's Club of Hackensack, Hackensack, NJ
Music by HIGHLAND WHISKY
Dance program by Fergie Ferguson
1.
Cromdel Hill
R32, 3/4L
Unknown, Scottish Country Dances of the 18th Century
2.
Tribute to the Borders
J32, 3/4L
Roy Goldring, Scottish Country Dance Leaflets
3.
Jimmy's Fancy
S32, 3/4L
Thompson, RSCDS Book 14
4.
The Sailor
R32, 3/4L
Unknown, RSCDS Book 24
5.
Tarry A While
J32, 2/3L
Unknown, Book of Graded Scottish Country Dances
6.
The Banks of Clyde
S32, 3/4L
Unknown, Miss Milligan's Miscellany of SCD
7.
The Laird of Milton's Daughter
J32, 3/4L
Craigmyle, RSCDS Book 22
8.
General Stuart's Reel
R32, 3/4L
Castle Menzies Register, RSCDS Book 10
INTERMISSION
9.
Kendall's Hornpipe
J32, 2/4L
Unknown, Book of Graded Scottish Country Dances
10.
The Selkirk Settlers
R40, 3/3L
Margaret Zadworny, Let's All Dance
11.
Snow In March
S32, 3/4L
Genny Vaughn, New York Branch Dances
12.
The Waggle o' the Kilt
J40, 3/4L
James B. Cosh, Twenty-two SCD and One Other
13.
The Music Makars
R32, 3/4L
Roy Goldring, RSCDS Book 33 Eight Modern SCD
14.
The Cramond Wedding
S32, 3/3L
Roy Goldring, 15 Social Dances
15.
The White Heather Jig
J40, 4/4L
James B Cosh, Twenty-two SCD and Two Others
16.
Sleepy Maggie
R32, 3/4L
Alexander Bowman, RSCDS Book 11
16th Annual Rerr Terr, Saturday, Arpil 15, 2000
The Woman's Club of Hackensack, Hackensack, NJ
Music by HIGHLAND WHISKY
1.
Lord Kilmory's Delight
R32, 3/4L
Unknown, RSCDS Book 29
2.
Tae Fife and Back
J32, 4/4L
Roy Goldring, 12 More Social Dances
3.
Lady Susan Montgomery
S40, 3/4L
David Young, The Leaflet Dances with Music
4.
Salute to Miss Milligan
R32, 3/4L
John Drewry, The Canadian Book of SCD
5.
Light and Airy
J32, 3/4L
William Campbell, RSCDS Book 4
6.
Cuillins of Skye
S32, 3/4L
Roy Goldring, Four Scottish Country Dances
7.
Kitty Campbell's Reel
J32, 3/4L
Unknown, Book of Graded Scottish Country Dances
8.
Lothian Lads
R32, 3/4L
John Drewry, The Brodie Book
INTERMISSION
9.
The Lassies of Dunse
J32, 3/4L
Rutherford, RSCDS Book 18
10.
Cherrybank Gardens
S32, 3/3L
John Drewry, Bankhead Book Part 1
11.
The Highland Rambler
R40, 3/4L
Roy Goldring, Silver Jubilee 25
12.
The Purple Heather Jig
J32, 3/4L
Ted Skeen, New Haven Branch RSCDS 12 Dances
13.
The Crooket-Horned Ewie
S32, 3/4L
Rutherford, RSCDS Book 14
14.
The Fife Hunt
R32, 3/4L
Unknown, Miss Milligan's Miscellany of SCD
15.
Tribute to the Borders
J32, 3/4L
Roy Goldring, Scottish Country Dance Leaflets
16.
The Duran Ranger
R32, 3/4L
Unknown, RSCDS Book 13 (The Victory Book)
15th Annual Rerr Terr, Saturday, March 27, 1999
The Woman's Club of Hackensack, Hackensack, NJ
Music by HIGHLAND WHISKY
1.
Come Ashore Jolly Tar
R32, 2/4RR
Unknown, RSCDS Book 7
2.
Campbell's Frolic
J32, 3/4L
Rutherford, RSCDS Book 15
3.
Balquidder Strathspey
S32, 3/4L
Rutherford, RSCDS Book 24
4.
Ye're Welcome Charly Stuart
R32, 3/4L
Castle Menzies Register, RSCDS Book 7
5.
Balmoral Strathspey
S32, 4/4L
John A Charles, RSCDS Book 22
6.
Catch the Wind
R32, 3/4L
Romaine Butterfield, Island Bay Collection
7.
Miss Gibson's Strathspey
S32, 3/4L
Derek Haynes, Scottish Country Dance Leaflets
8.
Waverley
J48, 3/4L
Button and Whittaker, RSCDS Book 15
INTERMISSION
Gay Gordons
X16, 1RR
Unknown, Scottish Reels are Fun
9.
Kendall's Hornpipe
J32, 2/4L
Unknown, Book of Graded Scottish Country Dances
10.
The Duke of Perth
R32, 3/4L
Unknown, RSCDS Book 1
11.
The Glasgow Highlanders
S32, 2/4L
Walter F Ghillies, RSCDS Book 2
12.
Saint Andrew's Fair
J32, 3/4L
Roy Goldring, 5 Scottish Country Dances
13.
The Wind that Shakes the Barley
R32, 3/4L
John M. Duthie, Eight Scottish Country Dances
14.
The Sauchie Haugh
S32, 2/4L
George S Emmerson, Leaflet #12
15.
The Sailor
R32, 3/4L
Unknown, RSCDS Book 24
16.
Postie's Jig
J32, 4/4L
Roy Clowes, Ormskirk Scottish Dances Book 5
14th Annual Rerr Terr, Saturday, April 4, 1998
The Woman's Club of Hackensack, Hackensack, NJ
Music by HIGHLAND WHISKY
1.
The White Cockade
R32, 3/4L
Preston, RSCDS Book 5
2.
Miss Stewart's Jig
J32, 2/4L
Hugh Foss, Glendarroch Scottish Dance Sheets
3.
Scarlet Ribbons
S32, 3/4L
Anne Wolf, Anne Wolf Leaflet
4.
The Selkirk Settlers
R40, 3/3L
Margaret Zadworny, Let's All Dance
5.
Over the Water to Charlie
J32, 3/4L
Unknown, RSCDS Book 34
6.
Betty's Wedding
M32, 3/4L
James B. Cosh, Twenty-two SCD and Two Others
7.
Tribute to the Borders
J32, 3/4L
Roy Goldring, Scottish Country Dance Leaflets
8.
Mr. Wilson's Hornpipe
R32, 3/4L
Thomas Wilson, RSCDS Book 16
INTERMISSION
9.
Currie Mountain Reel
R32, 3/4L
Mary Pugh, New Brunswick Collection
10.
The Highland Fair
J32, 2/4L
Unknown, Book of Graded SCD
11.
The Duchess Tree
S32, 3/4L
John Drewry, The Brodie Book
12.
Jessie's Hornpipe
R32, 3/4L
Unknown, RSCDS Book 8
13.
The Hunting Horn
J32, 3/4L
Peter McBryde, Scottish Dance Archives
14.
From the Broomielaw
S32, 4/4L
Anna Campbell Holden, TAC Silver Anniversary Dances
15.
The Frisky
J32, 3/4L
Robert Bremner, RSCDS Book 26
16.
Round Reel of Eight
R88, 4/4S
Unknown, RSCDS Book 27
13th Annual Rerr Terr, Saturday, April 12, 1997
The Woman's Club of Hackensack, Hackensack, NJ
Music by HIGHLAND WHISKY
1.
Davy Nick Nack
R32 3/4L
Robert M. Campbell, Glasgow Assembly and Other SD
2.
The Wild Geese
J32, 3/4L
Unknown, RSCDS Book 24
3.
Fair Donald
S32, 3/4L
Unknown, RSCDS Book 29
4.
Flowers of Edinburgh
R32 3/4L
Unknown, RSCDS Book 1
5.
Bedrule
S32, 3/4L
Betty Grant, RSCDS Book 33, Eight Modern SCD
6.
The Rothesay Rant
J32, 4/4S
Anna Campbell Holden, Birmingham Book 1973-12 SCD
7.
John McAlpin
S32, 3/4L
Hugh Foss, Galloway Album
8.
Shiftin' Bobbins
R32, 3/4L
Roy Clowes, Ormskirk Scottish Dances Book 6
INTERMISSION
9.
Roaring Jelly
J32, 3/4L
Hugh Foss, Glendarroch Scottish Dance Sheets
10.
Mrs. MacLeod of Raasay
R32, 3/4L
Unknown, RSCDS Book 6
11.
The Saint John River
S32, 4/4L
Prudence Edwards, A Centennial Collection
12.
Haste to the Wedding
J32, 2/4L
Unknown, RSCDS Book 25
13.
The Mauchline Lady
R32, 3/4L
Ann Wolf, The Rowan Tree Set
14.
Scottish Ramble
S32, 3/4L
Unknown, RSCDS Book 5
15.
West's Hornpipe
R32, 4/4L
Unknown, Five Traditional SCD for 1965
16.
The Reel of the Royal Scots
R32, 3/4L
Roy Goldring, Scottish Country Dance Leaflets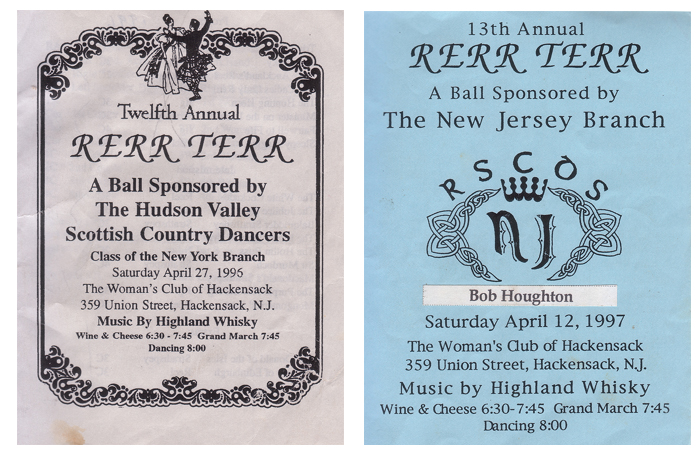 Twelfth Annual Rerr Terr, Saturday, April 27, 1996
The Woman's Club of Hackensack, Hackensack, NJ
Music by HIGHLAND WHISKY
1.
Trip to Gretna Green
J32, 3/4L
Unknown, Unpublished
2.
The Frisky
J32, 3/4L
Robert Bremner, RSCDS Book 26
3.
Lady Auckland's Reel
S32, 2/4L
William Campbell, RSCDS Book 18
4.
The Cadies Lady
R40, 3/4L
Alexander Bowman, RSCDS Book 30
5.
The Hunting Horn
J32, 3/4L
Peter McBryde, Scottish Dance Archives
6.
The Minister on the Loch
S32, 3/3L
Roy Goldring, 24 Graded and Social Dances
7.
Farewell to Fife
J32, 4/4L
Anna Campbell Holden, Birmingham Book 1986-8 SCD
8.
Sleepy Maggie
R32, 3/4L
Alexander Bowman, RSCDS Book 11
INTERMISSION
9.
The White Cockade
R32, 3/4L
Preston, RSCDS Book 5
10.
The Jubilee Jig
J32, 3/4L
RSCDS, The Leaflet Dances with Music
11.
Balquidder Strathspey
S32, 3/4L
Rutherford, RSCDS Book 24
12.
Merry Lads of Ayr
R32, 3/4L
Unknown, RSCDS Book 1
13.
The Hollin Buss
J32, 2/4L
Unknown, RSCDS Book 24
14.
Sir Murdoch MacDonald's Strathspey
S32, 4/4L
DJO Wilson, RSCDS Book 31-Diamond Jubilee 1923-83
15.
The Purple Heather Jig
J32, 3/4L
Ted Skeen, New Haven Branch RSCDS 12 Dances
16.
The Montgomeries' Rant
R32, 3/4L
Castle Menzies Register, RSCDS Book 10
EXTRAS
Macdonald of the Isles
S32, 3/3L
Derek Haynes, Glendarroch Scottish Dance Sheets
Flowers of Edinburgh
R32 3/4L
Unknown, RSCDS Book 1
The Eleventh Annual Rerr Terr, Saturday, April 22, 1995
The Woman's Club of Hackensack, Hackensack, NJ
Music by HIGHLAND WHISKY
1.
Campbell's Frolic
J32, 3/4L
Rutherford, RSCDS Book 15
2.
Jessie's Hornpipe
R32, 3/4L
Unknown, RSCDS Book 8
3.
Jimmy's Fancy
S32, 3/4L
Thompson, RSCDS Book 14
4.
The De'il Amang the Tailors
R32, 3/4L
Unknown, RSCDS Book 14
5.
Balquidder Strathspey
S32, 3/4L
Rutherford, RSCDS Book 24
6.
The Wild Geese
J32, 3/4L
Unknown, RSCDS Book 24
7.
Neidpath Castle
S32, 3/3L
Derek Haynes, RSCDS Book 22
8.
Mrs MacLeod of Raasay
R32, 3/4L
Unknown, RSCDS Book 6
DINNER
Gay Gordons
X16, 1RR
Unknown, Scottish Reels are Fun
9.
Kendall's Hornpipe
J32, 2/4L
Unknown, Book of Graded Scottish Country Dances
10.
The Dancing Man
R32, 3/4L
Roy Goldring, 10 Social Dances
11.
Seann Truibhas Willichan
S32, 2/4L
Thomas Wilson, RSCDS Book 27
12.
On the Quarter-Deck
R32, 2/4L
Iain Boyd, The Harbour City
13.
The Laird of Milton's Daughter
J32, 3/4L
Craigmyle, RSCDS Book 22
14.
Sugar Candie
S32, 3/4L
Unknown, RSCDS Book 26
15.
Maxwell's Rant
R32, 3/4L
Rutherford, RSCDS Book 18
16.
The Reel of the Royal Scots
R32, 3/4L
Roy Goldring, Scottish Country Dance Leaflets
The Tenth Annual Teaneck Rerr Terr, Saturday, April 9, 1994
The Teaneck Womens Club, Teaneck, NJ
Music by HIGHLAND WHISKY
1.
Cromdel Hill
R32, 3/4L
Unknown, Scottish Country Dances of the 18th Century
2.
Berwick Johnnie
J32, 3/4L
Unknown, Book of Graded Scottish Country Dances
3.
Snow In March
S32, 3/4L
Genny Vaughn, New York Branch Dances
4.
Shiftin' Bobbins
R32, 3/4L
Roy Clowes, Ormskirk Scottish Dances Book 6
5.
The Rothesay Rant
J32, 4/4S
Anna Campbell Holden, Birmingham Book 1973-12 SCD
6.
I'll gang nae mair tae yon Toon
S40, 3/4L
Unknown, RSCDS Book 15
7.
The Mauchline Lady
R32, 3/4L
Ann Wolf, The Rowan Tree Set
8.
Rory O'More
J32, 2/4L
Unknown, RSCDS Book 1
DINNER
9.
The Cadies Lady
R40, 3/4L
Alexander Bowman, RSCDS Book 30
10.
The Frisky
J32, 3/4L
Robert Bremner, RSCDS Book 26
11.
Bridge of Nairn
S32, 3/4L
Robert Bremner, RSCDS Book 13 (The Victory Book)
12.
A Trip to Bavaria
R32, 4/4L
James MacGregor-Brown, A Guide to SCD
13.
Willie' s Rare and Willie's Fair
J48, 3/4L
Unknown, Miss Milligan's Miscellany of SCD
14.
The Blithest Lass that Ever was Seen
S32, 3/4L
Unknown, Miss Milligan's Miscellany of SCD
15.
Miss Hadden's Reel
J32, 3/4L
RSCDS, RSCDS Book 23
16.
Lord Kilmory's Delight
R32, 3/4L
Unknown, RSCDS Book 29
EXTRAS
The Byron Strathspey
S32, 3/3L
John Drewry, Deeside Book Part 2
Mairi's Wedding
R40, 3/4L
James B. Cosh, Twenty Two SCD and Two Others
The Ninth Annual Teaneck Rerr Terr, Saturday, April 3, 1993
The Teaneck Womens Club, Teaneck, NJ
Music by the FINDHORN TRIO with BONNIE RIDEOUT
featuring Liz Donaldson, Piano; Marty Taylor, Flute and Concertina; Malcom Stephens, Fiddle
Dance Program by Connie Powell
1.
Campbell's Frolic
J32, 3/4L
Rutherford, RSCDS Book 15
2.
The Highland Lass
R32, 3/4L
Playford, RSCDS Book 30
3.
The Deacon of the Weavers
S32, 3/4L
Unknown, RSCDS Book 25
4.
Lady Susan Stewart's Reel
R32, 3/4L
Unknown, RSCDS Book 5
5.
Grant's Reel
S32, 2/4L
Rutherford, RSCDS Book 14
6.
Miss Hadden's Reel
J32, 3/4L
RSCDS, RSCDS Book 23
7.
The British Grenadiers
R32, 3/4L
Unknown, Miss Milligan's Miscellany of SCD
8.
The Crooket-Horned Ewie
S32, 3/4L
Rutherford, RSCDS Book 14
9.
The Sailor
R32, 3/4L
Unknown, RSCDS Book 24
DINNER
10.
Waltz Country Dance
W40, 2RR
Unknown, RSCDS Book 4
11.
Lamb Skinnet
J32, 3/4L
Thompson, RSCDS Book 14
12.
Delvine Side
S32, 3/4L
William Campbell, RSCDS Book 2
13.
Mrs MacLeod of Raasay
R32, 3/4L
Unknown, RSCDS Book 6
14.
The Laird of Milton's Daughter
J32, 3/4L
Craigmyle, RSCDS Book 22
15.
Bridge of Nairn
S32, 3/4L
Robert Bremner, RSCDS Book 13 (The Victory Book)
16.
The Reel of the 51st Division
R32, 3/4L
James Atkinson, RSCDS Book 13 (The Victory Book)
The Eighth Annual Teaneck Rerr Terr, Saturday, April 4, 1992
The Teaneck Womens Club, Teaneck, NJ
Music by THE FINDHORN TRIO with JONATHAN FRICKE, 1991 Scottish National Fiddle Champion
featuring Liz Donaldson, Piano; Marty Taylor, Flute and Concertina; Malcom Stephens, Fiddle
Dance Program by Bob Houghton
1.
Roaring Jelly
J32, 3/4L
Hugh Foss, Glendarroch Scottish Dance Sheets
2.
Davy Nick Nack
R32, 3/4L
Robert M Campbell, Glasgow Assembly and Other SD
3.
Dalkeith's Strathspey
S32, 3/4L
Unknown, RSCDS Book 9
4.
Ladies' Fancy
J32, 2/4L
Unknown, RSCDS Book 13 (The Victory Book)
5.
Bedrule
S32, 3/4L
Betty Grant, RSCDS Book 33, Eight Modern SCD
6.
The Sailor
R32, 3/4L
Unknown, RSCDS Book 24
7.
Neidpath Castle
S32, 3/3L
Derek Haynes, RSCDS Book 22
8.
Shiftin' Bobbins
R32, 3/4L
Roy Clowes, Ormskirk Scottish Dances Book 6
INTERMISSION
Gay Gordons
X16, 1RR
Unknown, Scottish Reels are Fun
9.
The Dashing White Sergeant
R32,3+3RR
Unknown, RSCDS Book 3
10.
Machine Without Horses
J32, 3/4L
Rutherford, RSCDS Book 12
11.
The Silver City Strathspey
S32, 3/4L
John Drewry, The Silver City Book of SCD
12.
Jessie's Hornpipe
R32, 3/4L
Unknown, RSCDS Book 8
13.
The Duke and Duchess of Edinburgh
R40, 3/4L
Allie Anderson & Florence Lesslie, RSCDS Book 39
14.
The Silver Tassie
S32, 3/4L
John Drewry, Bon Accord Book of Scottish Country Dances
15.
Maxwell's Rant
R32, 3/4L
Rutherford, RSCDS Book 18
16.
Postie's Jig
J32, 4/4L
Roy Clowes, Ormskirk Scottish Dances Book 5
The Seventh Annual Teaneck Rerr Terr, Saturday, April 6, 1991
The Teaneck Womens Club, Teaneck, NJ
Music by SUSIE PETROV, BARBARA McOWEN, BRIAN YATES, and PAUL HENLE
1.
Flowers of Edinburgh
R32 3/4L
Unknown, RSCDS Book 1
2.
The Braes of Tulliemet
S32, 3/4L
Castle Menzies Register, RSCDS Book 7
3.
Australian Ladies
R32, 3/4L
Robert M. Campbell, Glasgow Assembly and Other SD
4.
Argyll's Fancy
J48, 4/4L
Unknown, Book of Graded Scottish Country Dances
5.
Sugar Candie
S32, 3/4L
Unknown, RSCDS Book 26
6.
Blue Bonnets
J32, 2/4L
Unknown, RSCDS Book 5
7.
The Trysting Place
S32, 2/4L
Iain Boyd, RSCDS Book 35
8.
The Wind that Shakes the Barley
R32, 3/4L
John M. Duthie, Eight Scottish Country Dances
INTERMISSION
Gay Gordons
X16, 1RR
Unknown, Scottish Reels are Fun
9.
Roaring Jelly
J32, 3/4L
Hugh Foss, Glendarroch Scottish Dance Sheets
10.
Delvine Side
S32, 3/4L
William Campbell, RSCDS Book 2
11.
The Hunting Horn
J32, 3/4L
Peter McBryde, Scottish Dance Archives
12.
Red House
R40, 2/4L
Playford, RSCDS Book 7
13.
The Robertson Rant
S80, 4/4S
Mrs. Douglas Winchester, RSCDS Book 39
14.
Return to the Glen
R32, 3/4L
Peter Wellenberg, New York Branch Dances
15.
Mrs. MacLeod of Raasay
R32, 3/4L
Unknown, RSCDS Book 6
16.
The Duran Ranger
R32, 3/4L
Unknown, RSCDS Book 13 (The Victory Book)
The Teaneck Rerr Terr, Saturday, April 7, 1990
The Teaneck Womens Club, Teaneck, NJ
Music by BARBARA McOWEN AND FRIENDS
1.
Berwick Johnnie
J32, 3/4L
Unknown, Book of Graded Scottish Country Dances
2.
Scotch Circle
R32, 2RR
Unknown, RSCDS Book 24
3.
Fair Donald
S32, 3/4L
Unknown, RSCDS Book 29
4.
Joe MacDiarmid's Jig
J32, 4/4L
Joan Richards, 5 Scottish Country Dances 1982
5.
Red House
R40, 2/4L
Playford, RSCDS Book 7
6.
Within a Mile of Edinburgh Toon
S32, 3/4L
Skillern, RSCDS Book 21
7.
The Jubilee Jig
J32, 3/4L
RSCDS, The Leaflet Dances with Music
8.
Return to the Glen
R32, 3/4L
Peter Wellenberg, New York Branch Dances
INTERMISSION
9.
The Wild Geese
J32, 3/4L
Unknown, RSCDS Book 24
10.
The Cadies Lady
R40, 3/4L
Alexander Bowman, RSCDS Book 30
11.
The Crooket-Horned Ewie
S32, 3/4L
Rutherford, RSCDS Book 14
12.
The Happy Meeting
J32, 2/4L
Unknown, RSCDS Book 29
13.
Bratach Bana
R32, 3/4L
John Drewry, Bon Accord Book of SCD
14.
Glasgow Lasses
S32, 2/4L
Walsh, RSCDS Book 34 Scottish Country Dances
15.
Miss Nancy Frowns
J32, 3/4L
Thompson, RSCDS Book 14
16.
The Reel of the Royal Scots
R32, 3/4L
Roy Goldring, Scottish Country Dance Leaflets
EXTRAS
The Summer Assembly
R88, 4/4S
Roy Goldring, RSCDS Book 35 SCD
The Saint John River
S32, 4/4L
Prudence Edwards, A Centennial Collection
The Rakish Highlandman
J40, 3/4L
Thomas Wilson, RSCDS Book 19
The Teaneck Rerr Terr, Saturday, April 29, 1989
The Teaneck Womens Club, Teaneck, NJ
Music by DRUMNADROCHIT
featuring Barbara McOwen, Susie Petrov, and Brian Yates
1.
Mad Hatter
J32, 3/4L
Iain Boyd, Happy to Meet
2.
The De'il Amang the Tailors
R32, 3/4L
Unknown, RSCDS Book 14
3.
Jimmy's Fancy
S32, 3/4L
Thompson, RSCDS Book 14
4.
Let's Have a Ceilidh
R32, 4/4L
Robert M. Campbell, Glasgow Assembly and Other SCD
5.
The Birks of Invermay
S32, 3/4L
Skillern, RSCDS Book 16
6.
The Laird of Milton's Daughter
J32, 3/4L
Craigmyle, RSCDS Book 22
7.
The Peat Fire Flame
R40, 3/4L
John Drewry, Bon Accord Book of Scottish Country Dances
8.
Drumelzier
S32, 4/4L
Christopher Blair, Two Scottish Country Dances
9.
Campbell's Frolic
J32, 3/4L
Rutherford, RSCDS Book 15
INTERMISSION
10.
Ladies' Fancy
J32, 2/4L
Unknown, RSCDS Book 13 (The Victory Book)
11.
The Reel of the 51st Division
R32, 3/4L
James Atkinson, RSCDS Book 13 (The Victory Book)
12.
Balquidder Strathspey
S32, 3/4L
Rutherford, RSCDS Book 24
13.
The Black Mountain Reel
R32, 5/5L
Derek Haynes, Carnforth Collection of SCD 3
14.
Invercauld's Reel
S32, 3/4L
Alexander Bowman, RSCDs Book 11
15.
Cumberland Reel
J32, 4/4L
Unknown, RSCDS Book 1
16.
Bratach Bana
R32, 3/4L
John Drewry, Bon Accord Book of SCD
17.
Neidpath Castle
S32, 3/3L
Derek Haynes, RSCDS Book 22
18.
The Rothesay Rant
J32, 4/4S
Anna Campbell Holden, Birmingham Book 1973-12 SCD
EXTRAS
A Trip to Bavaria
R32, 4/4L
James MacGregor-Brown, A Guide to SCD
Hooper's Jig
J32, 3/4L
Unknown, Miss Milligan's Miscellany of SCD
The Hamilton Rant
R48, 3/4L
Robert M. Campbell, RSCDS Book 22
The Teaneck Rerr Terr, Saturday, April 30, 1988
The Teaneck Womens Club, Teaneck, NJ
Music by JIM McINTYRE AND HIS BAND
1.
The Hollin Buss
J32, 2/4L
Unknown, RSCDS Book 24
2.
The Wind that Shakes the Barley
R32, 3/4L
John M. Duthie, Eight Scottish Country Dances
3.
Fair Donald
S32, 3/4L
Unknown, RSCDS Book 29
4.
The Starry Eyed Lassie
J32, 3/4L
Martin Sprague, RSCDS Book 23
5.
Not I
R32, 3/4L
Unknown, RSCDS Book 28
6.
The Munro Rant
S32, 2/4L
Unknown, Miss Milligan's Miscellany of SCD
7.
Haddington Assembly
J32, 3/4L
Jean Henderson, Unpublished
8.
Davy Nick Nack
R32, 3/4L
Robert M. Campbell, Glasgow Assembly and Other SD
INTERMISSION
9.
The Sailor
R32, 3/4L
Unknown, RSCDS Book 24
10.
Joe MacDiarmid's Jig
J32, 4/4L
Joan Richards, 5 Scottish Country Dances 1982
11.
Bridge of Nairn
S32, 3/4L
Robert Bremner, RSCDS Book 13 (The Victory Book)
12.
Maxwell's Rant
R32, 3/4L
Rutherford, RSCDS Book 18
13.
Scottish Reform
J32, 2/4L
Unknown, RSCDS Book 3
14.
The Dundee Whaler
S32 4/4L
Roy Clowes, Ormskirk Scottish Dances Book 1
15.
Machine Without Horses
J32, 3/4L
Rutherford, RSCDS Book 12
16.
Mairi's Wedding
R40, 3/4L
James B. Cosh, Twenty Two SCD and Two Others
EXTRAS
The Duchess Tree
S32, 3/4L
John Drewry, The Brodie Book
Miss Allie Anderson
J32, 3/4L
Mina Corson, The Leaflet Dances with Music
General Stuart's Reel
R32, 3/4L
Castle Menzies Register, RSCDS Book 10
The Teaneck Rerr Terr, Saturday, May 2, 1987
The Teaneck Womens Club, Teaneck, NJ
Music by JIM McINTYRE AND HIS BAND
1.
Anderson's Rant
R32, 3/4L
Unknown, Miss Milligan's Miscellany of SCD
2.
The Jubilee Jig
J32, 3/4L
RSCDS, The Leaflet Dances with Music
3.
The Garry Strathspey
S32, 4/4L
James B. Cosh, Twenty-two SCD and Two Others
4.
Fugal Fergus
J48, 3/4L
Hugh Foss, Waverley Fugues
5.
The Sailor
R32, 3/4L
Unknown, RSCDS Book 24
6.
Peggy's Love
S32, 3/4L
Unknown, RSCDS Book 8
7.
The Hamilton Rant
R48, 3/4L
Robert M. Campbell, RSCDS Book 22
8.
Flowers of Edinburgh
R32 3/4L
Unknown, RSCDS Book 1
INTERMISSION
9.
Roaring Jelly
J32, 3/4L
Hugh Foss, Glendarroch Scottish Dance Sheets
10.
Saltire Society Reel
R32, 3/4L
Roy Goldring, Scottish Country Dance Leaflets
11.
Neidpath Castle
S32, 3/3L
Derek Haynes, RSCDS Book 22
12.
Miss Nancy Frowns
J32, 3/4L
Thompson, RSCDS Book 14
13.
The Highland Lass
R32, 3/4L
Playford, RSCDS Book 30
14.
Adieu Mon Ami
S32, 3/4L
Unknown, RSCDS Book 24
15.
The Waggle o' the Kilt
J40, 3/4L
James B. Cosh, Twenty-two SCD and One Other
16.
West's Hornpipe
R32, 4/4L
Unknown, Five Traditional SCD for 1965
EXTRAS
Falls of Rogie
R32, 3/4L
Jean Attwood, Alexander Dances Book 1
Drumelzier
S32, 4/4L
Christopher Blair, Two Scottish Country Dances
General Stuart's Reel
R32, 3/4L
Castle Menzies Register, RSCDS Book 10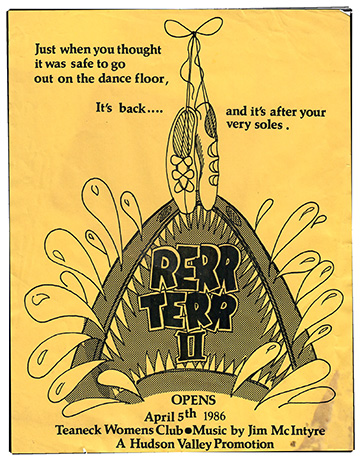 The Teaneck Rerr Terr, Saturday, April 5, 1986
The Teaneck Womens Club, Teaneck, NJ
Music by JIM McINTYRE AND HIS BAND
1.
Saint Andrew's Fair
J32, 3/4L
Roy Goldring, 5 Scottish Country Dances
2.
The Gates of Edinburgh
R32, 3/4L
Rutherford, RSCDS Book 15
3.
Inveraray
S32, 3/4L
Unknown, Miss Milligan's Miscellany Volume 1
4.
Cromdel Hill
R32, 3/4L
Unknown, Scottish Country Dances of the 18th Century
5.
Espie MacNab
J32, 3/4L
Unknown, Miss Milligan's Miscellany of SCD
6.
Bonnie Stronshiray
S32, 3/4L
Robert M Campbell, Glasgow Assembly & Other SD
7.
The Solway Reel
R48, 4/4L
Joseph Killeen, The Anniversary Book
8.
Campbell's Frolic
J32, 3/4L
Rutherford, RSCDS Book 15
INTERMISSION
9.
Johnny Groat's House
R32, 3/4L
Rutherford, RSCDS Book 18
10.
The Luckenbooth Brooch
J32, 3/4L
John Bowie Dickson, Glendarroch Scottish Dance Sheets
11.
The Glasgow Highlanders
S32, 2/4L
Walter F. Ghillies, RSCDS Book 2
12.
Corn Rigs
R32, 2/4L
Unknown, RSCDS Book 4
13.
Kendall's Hornpipe
J32, 2/4L
Unknown, Book of Graded Scottish Country Dances
14.
The Robertson Rant
S80, 4/4S
Mrs. Douglas Winchester, RSCDS Book 39
15.
The Laird of Milton's Daughter
J32, 3/4L
Craigmyle, RSCDS Book 22
16.
The Twa Meenit Reel
R32, 4/4L
Roy Clowes, Scottish Dance Archives
EXTRAS
Rest and Be Thankful
R32, 3/4L
Unknown, Grampian Collection of Scottish Country Dances
John of Bon Accord
R32, 3/4L
Roy Goldring, RSCDS Book 33, Eight Modern SCD
The Teaneck Rerr Terr, Saturday, April 27, 1985
The Teaneck Womens Club, Teaneck, NJ
Music by JIM McINTYRE AND HIS BAND
1.
Flowers of Edinburgh
R32 3/4L
Unknown, RSCDS Book 1
2.
John McAlpin
S32, 3/4L
Hugh Foss, Galloway Album
3.
Argyll's Fancy
J48, 4/4L
Unknown, Book of Graded Scottish Country Dances
4.
Galloway House
R32, 2/4L
Unknown, Book of Graded Scottish Country Dances
5.
Balquidder Strathspey
S32, 3/4L
Rutherford, RSCDS Book 24
6.
The Wild Geese
J32, 3/4L
Unknown, RSCDS Book 24
7.
Bratach Bana
R32, 3/4L
John Drewry, Bon Accord Book of SCD
8.
Neidpath Castle
S32, 3/3L
Derek Haynes, RSCDS Book 22
9.
Circassian Circle
R32, 2RR
Unknown, RSCDS Book 1
10.
Postie's Jig
J32, 4/4L
Roy Clowes, Ormskirk Scottish Dances Book 5
INTERMISSION
11.
Round Reel of Eight
R88, 4/4S
Unknown, RSCDS Book 27
12.
The Silver Tassie
S32, 3/4L
John Drewry, Bon Accord Book of Scottish Country Dances
13.
Light and Airy
J32, 3/4L
William Campbell, RSCDS Book 4
14.
The Duke of Perth
R32, 3/4L
Unknown, RSCDS Book 1
15.
Macdonald of the Isles
S32, 3/3L
Derek Haynes, Glendarroch Scottish Dance Sheets
16.
Machine Without Horses
J32, 3/4L
Rutherford, RSCDS Book 12
17.
The Montgomeries' Rant
R32, 3/4L
Castle Menzies Register, RSCDS Book 10
18.
Monymusk
S32, 3/4L
Preston, RSCDS Book 11
19.
Waverley
J48, 3/4L
Button and Whittaker, RSCDS Book 15
EXTRAS
The Twa Meenit Reel
R32, 4/4L
Roy Clowes, Scottish Dance Archives
The Reel of the 51st Division
R32, 3/4L
James Atkinson, RSCDS Book 13 (The Victory Book)
The Robertson Rant
S80, 4/4S
Mrs. Douglas Winchester, RSCDS Book 39
Maxwell's Rant
R32, 3/4L
Rutherford, RSCDS Book 18